Adult: Hopper Balls for Ages 16 to 101
Why? Because we cannot let the kids have all the fun.
Our adult size ball (29"/75CM) is perfect for teenagers and adults.
Designed to impress the boss at office parties, for birthday parties & family reunions. Often used by professionals in schools for exercise and field day activities.
Waliki Toys Hopper Balls for adults are a culture icon, were featured on ABC news, and in homes worldwide.
Hoppity Hop Ball: Adult Size
The long wait is over!
Stop borrowing your child's ball and get your own adult size Hippity Hop! It's great for bouncing around with your children, racing friends, impress your boss, and even for pilates ball exercises. Extreme fun guaranteed. Warning: Device is not a time machine.
| | |
| --- | --- |
| PRICE | From $29.99 (A free pump is included with most Waliki Toys Hop Balls) |
| SHIPPING | Flat rate ($4.95) to the continental USA (up to 80 balls). Free shipping on orders over $60.00. |
| AGES | Great for ages 13 to 101. Not a time travel device. Max weight recommended 300 LBS. |
| SIZE | 29"/75CM in diameter. Inflate more or less to reach the most comfortable size according to your height. Max weight 300 LBS. |
| MATERIAL | Built to last with high-quality, thick rubber. |
| SET UP | Inflates with a hand pump (included free with most Waliki Toys Hippity Hop Balls), or with an optional foot pump or electric pump. Click for detailed instructions. |
Get in touch with your inner child! Try Hop Ball soccer
< >
---
Birthday Parties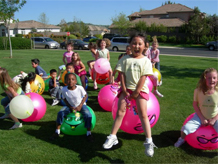 View Pictures
Adult Jumping Balls
Have fun with your kids or let your older kids have the fun they were meant to have!
Shop Adult Balls
Promotional Offers
Find the perfect hop ball size picking from the below to find the available options.
* 1 Free Pump when 2 or more balls are ordered. Includes any balls from the hop ball category
Shop Balls
Hopping Ball Party Packs
SAVE on quantities of 6 or more Hoping Balls
Shop Ball Party Packs