Exercise Balls & Other Brands
hopballs.com has a wide variety of hop balls including other brands other than the waliki brand, including some big names such as sit 'n' gym, the mega ball and opti ball. These great choices are also at our great prices and do fall within our shipping of the entire order for $4.95, so make sure to stock up and give the gift of fun and excercise.
Hopper Ball: Ages 3-6 years
You loved it when you were little, now it's your child's turn to have a (Hopper) Ball! Give your child a Hopper Ball and watch him go! Be sure to have a camera handy to capture the exhilarating moment.
Thicker, more durable than other brands, our Hopper Ball is the greatest and "funnest" way for kids to exercise without even knowing it! Guaranteed to help your kids burn off that extra energy.
Try an adult size Hopper Ball to bounce along your child, after all, adults can have fun too, right?
PRICE
Scroll up to see. (1 Free pump when you order 2 or more Hopper Balls.)
SHIPPING
$4.95 flat rate to the continental United States via UPS Ground. Ship up to 50 balls for the same flat rate! Click here for other shipping options.
AGES
3 to 6 years.
SIZE
Click on specific Hopper Ball. Can be adjusted by inflating to the most comfortable size according to your child.
MATERIAL
Made of high quality, thick rubber. Meet ASTM safety standards.
SET UP
Easy! Inflates with a balloon or hand pump (free with orders of 2 or more Hopper Balls), or with an optional foot pump.


Hopper Balls are just as pictured, colors and pictures cannot be changed.
Original gift idea, we can ship directly to cousin Johnny's house.
---
Birthday Parties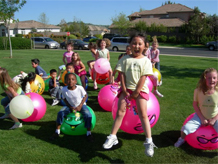 View Pictures
Adult Jumping Balls
Have fun with your kids or let your older kids have the fun they were meant to have!
Shop Adult Balls
Promotional Offers
Find the perfect hop ball size picking from the below to find the available options.
* 1 Free Pump when 2 or more balls are ordered. Includes any balls from the hop ball category
Shop Balls
Hopping Ball Party Packs
SAVE on quantities of 6 or more Hoping Balls
Shop Ball Party Packs