Rody Horse
The timeless favorite, available in 13 fun colors, the Rody Horse will provide hours of fun for your little cowboys and cowgirls. Often used in therapy and for developing balance and coordination skills. For children 3-5 years old.
Why order directly from us?

Free Pump
Free/Low Shipping
Color Selection
Best Value
For kids 6 to 12 years, check out the larger Rody Max.
THESE ARE ALL THE RODY COLORS LEFT IN STOCK. NEED MORE COLORS? TRY BENNY THE BULL BY WALIKI.
Rody Horse
For those of us who were lucky enough to enjoy a Rody Horse as a child, we know the bouncy joy and excitement our loved ones will feel when trying out their own Rody. Now it's your child's turn to have a great time!
Therapists also employ Rody Horse to help develop balance and coordination. Staying on is more challenging than it looks. For children 6 to 12 years, choose the larger Rody Max. Rody Horse: Your new best friend.
PRICE
$54.95
SHIPPING
Flat rate ($4.95) to the continental USA (up to 80 products). Free shipping on orders over $60.00.
AGES
Rody Horse is great for children 18 months to 6 years who like to bounce.
SIZE
Height of the saddle is 12 inches when fully inflated. Can be inflated to a lower height to accommodate shorter riders. Max weight 150 lbs.
MATERIAL
Made of heavy duty vinyl. Contains no latex or phthalates. Made in Italy.
SET UP
Rody Horse inflates with a hand pump (now included free with every Rody), or with an optional foot pump or electric pump.
Why order from us?

Free hand pump
Free or low shipping cost
Money-saving coupons
---
Rody Pony and Rody Max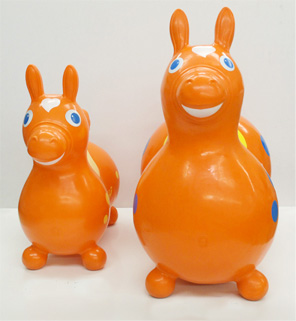 Rody Pony
Rody Horse is for ages 18 months to 6 years.
Rody Horse comes in 13 colors,
Price $54.99
Shop Now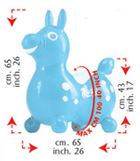 Rody Max
Rody Max is for ages 6 years+
Rody Max comes in 3 colors
Price $149.99
Shop Now
---
Benny the Bull vs. Rody Horse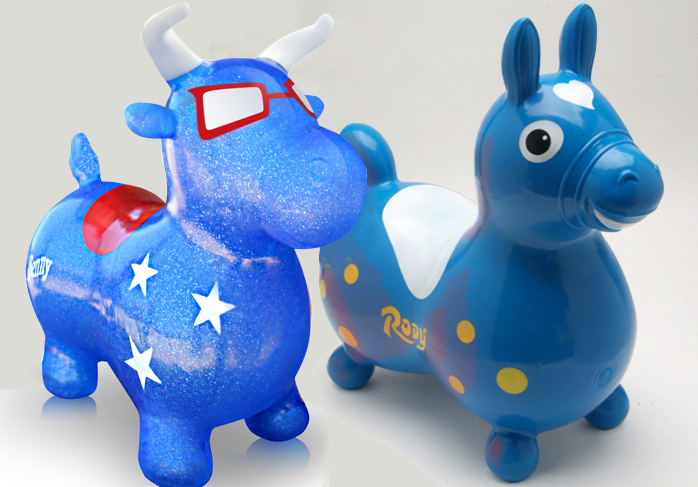 Benny the Hopping Bull
Made by Waliki®. Pump Included.
Price $39.99. Benny is available in 7 awesome colors.
Shop Now
Rody Horse
Made in Italy, Order from us to get a free pump.
Price $54.95. Rody Horse comes in 13 colors.
Shop Now
---
Reviews:
" I got a Rody Horse for my little one when she was 2, she just loved it!... after two years it seems it's her favorite toy and also her best friend!... she doesn't only bounce on her rody horse, but dress it, play, talk to it and take care of it as if it was real... hehe "
-Cyntia Padilla
" This toy (rody horse) is truly a hit! I got one for a granddaughter on her 2nd birthday and it was the only toy her little friends would fight over when they came to visit....She loved it, and bounced all over the house with her rody horse Thank you Jumping Balls! "
-Teresa V. Washington
"...had just taken her first steps. The Rody Horse was a great tool for Kirsten to develop trunk strength .. this is the rody horse she got for her 2nd birthday... within just a few months she could hold on with easy and have a great time with it.. (and the rocking feature doubled the fun) "
-Barbarann G, from Washington
How to Inflate: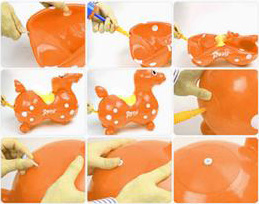 ---
Rody Pony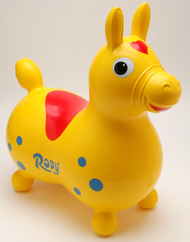 Only we charge $4.95 for shipping on your entire order and include a free hand pump with every Rody Horse.
Save $10.00 with
COUPON: RODY$10
For orders: Rody Horse + any Hop Ball
Other websites initially show a lower price, but after typing your information will surprise you with a high shipping fee and ask $9.99 for the same pump we provide free.
If you really found a Rody at a lower price, we will match it*.
Free shipping on 2+ Rody Horses, see here: Free Shipping Rody Horse.
Promotional Offers
Find the perfect hop ball size picking from the below to find the available options.
* 1 Free Pump when 2 or more balls are ordered. Includes any balls from the hop ball category
Shop Balls
Hopping Animal Party Packs
SAVE on quantities of 6 or more Hoping Animals
Shop Animal Party Packs